Ecology, Class, and Accountability in Contemporary Vanitas
I am, first and foremost, Filipino-American. Both, and neither. As an artist, I am guided by the multi-dimensional perspectives that this pendulous position offers. Coming from a working-class family with an archipelagic ancestral home, I am deeply conscious of the vulnerabilities of poor communities in destabilized ecological conditions, and how that ecology connects us across the biosphere. As the prime beneficiaries of the industrial revolution, the wealthiest nations bear the responsibility to enact environmental justice.
My main body of work, Legacies, examines the ivory-tower effect of life in the first world -- the illusions of dichotomy and separation between man and nature, progress and sustainability, and first- and third-world. These paintings engage the environmentalist movement through a lens of class and consumerism, noting the degrees of economic separation that serve as buffers between consumer and resource. The still-life, which has historically served as a purveyor of status and reptilian possession, occupies a natural axis between these themes while sustainability recontextualizes the familiar genre.
My paintings evoke ideas of lineage and legacy through second-hand goods and found detritus/recyclables. By utilizing recycled tableware and antiques, I minimize my own participation in a culture of globalized overproduction, opting instead to fund local economies. By depicting single-use plastics, I mimic the everlasting nature of the material through the immortalizing realm of the classical style.
I also implement materials procured through sustainable means as often as possible. The umber and ochre hues in my paintings are a pigment derived from the cleanup of acid mine drainage in the Appalachians; the greys are formed chromatically from the pigments in recycled painting solvent and waste toner. Even my canvas frames are often made from reclaimed wood or the century-old frames discarded from the painting restoration industry.
These practices allow me to cultivate my own sustainable habits while creating larger moments of activism. Through my work, I urge viewers to peer past the systems that appear to keep us safe from ourselves, to see that now is exactly the time to shift towards a sustainable way of life. My paintings monumentalize the fallout of mass consumption by creating microcosms of the first world: idyllic and bountiful, but pervaded with the heraldry of our compromised natural systems.
TAAL VOLCANO, 18 JUNE 2019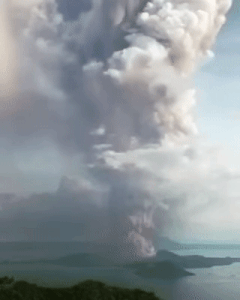 TAAL VOLCANO, 12 JANUARY 2020